Posted by Seth Zipay, April 17th, 2017
Last Updated: August 10th, 2022
When it's time for a new pair of golf shoes we've all experienced the overwhelming and extremely large selection of golf shoe styles and price ranges from the ever increasing amount of golf shoe brands. The list begins with FootJoy, Adidas, Nike, Under Armour, Callaway, Skechers, Ecco, Puma, and many more. So how do you choose? There are a few things to take into consideration and we think this Golf Shoe Buying Guide will help you find your perfect pair of golf shoes.
The style is 100% personal preference. Many of you might notice that even the guys on the PGA Tour wear anything from an athletic shoe style to more of a dress shoe style or a traditional saddle shoe. Try thinking about what you normally wear on the golf course and then decide which style might look best for you. If you play mostly public courses where proper attire, such as a collared shirt, isn't required you may find that an athletic style shoe works best. Or if you belong to a country club you may prefer a more traditionally saddle shoes, such as the FootJoy Premiere Series Golf Shoes or even the FJ Traditions premium golf shoes.
The style of golf shoes has changed drastically over the last 10 years, you can find the most colorful shoes for men or women, a decade ago it was only neutral colors and a traditional golf shoe look. Luckily, that isn't the case any more, Nike has taken the approach of matching their golf shoe style to their running shoes style and you can notice the branding is the same across all shoes for all the sports they make shoes for. Adidas is the same way with their Solarthon Golf Shoes, they brought their boost technology from running and football cleats to golf a couple years ago and it has been a huge success. And last but not least FootJoy, the #1 Shoe in Golf, has also kept up with the times and has many styles such as Foot Joy Hyperflex golf shoes, and FootJoy FJ Flex shoes that are stylish with a splash of color.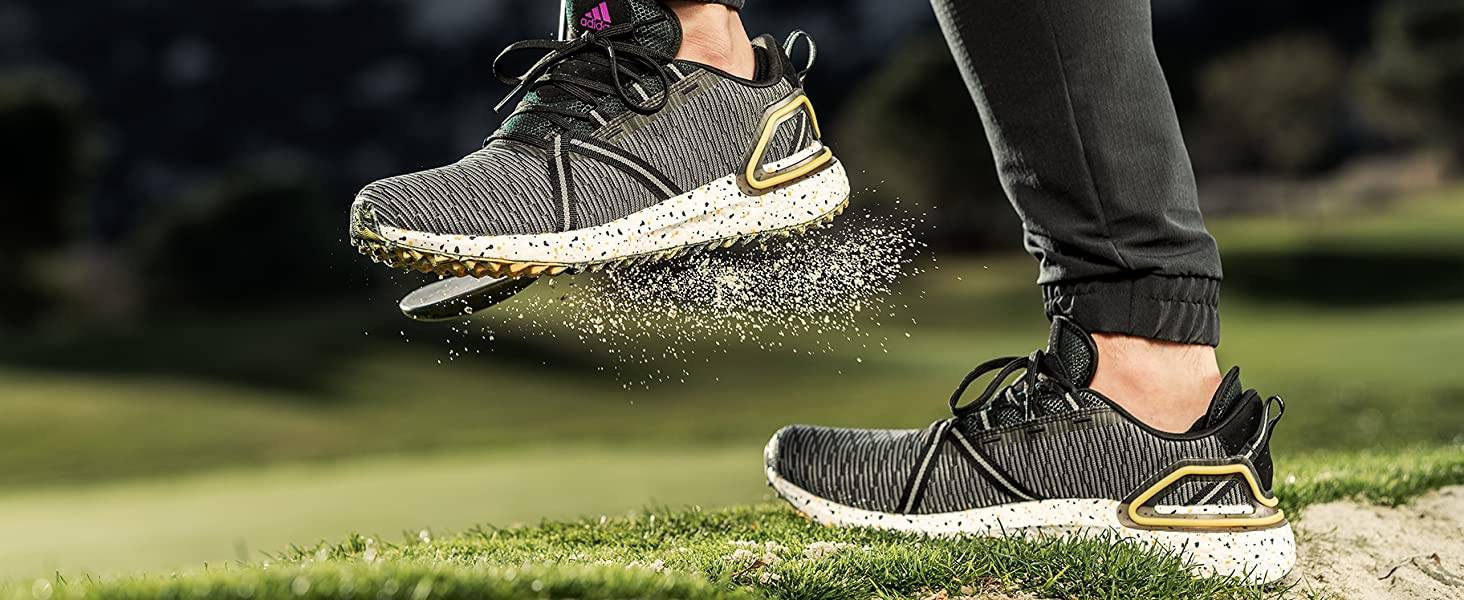 Some people aren't concerned with a waterproof warranty because they "never play in the rain". That is true for most but how many golfers play in the early mornings before the dew evaporates? This should be taken into consideration when buying a zero, one or two year waterproof warranty shoe. Many shoes are even water resistant these days so even though they aren't completely waterproof you can get away with playing early with some dew on the grass. Although there are some mesh upper golf shoes out there and if you do play early we recommend you stay away from those types of golf shoes.
All major brands from FootJoy to Adidas always stand behind their waterproof warranties so all you have to do contact the retailer you purchased the shoes from and the manufacturer will inspect them and replace them with the same style or if that style was a closeout golf shoe that the brand no longer carries they will replace it with the closest current 2022 model that they have available.
You aren't going to be a happy golfer if you're wearing uncomfortable shoes. It's always good to try shoes on even if you know what size you normally wear. This is especially important for those of you who walk the course. Everyone's feet are different and some shoes have more cushioned soles and better arch support compared to others. Some styles are synthetic such as the FootJoy eComfort and some use other types of leather that are more high-end than others. The FJ Premiere Series use luxurious Premium Pittards leather from England and New Balance uses microfiber and synthetic leather in their Fresh Foam Contend golf shoes.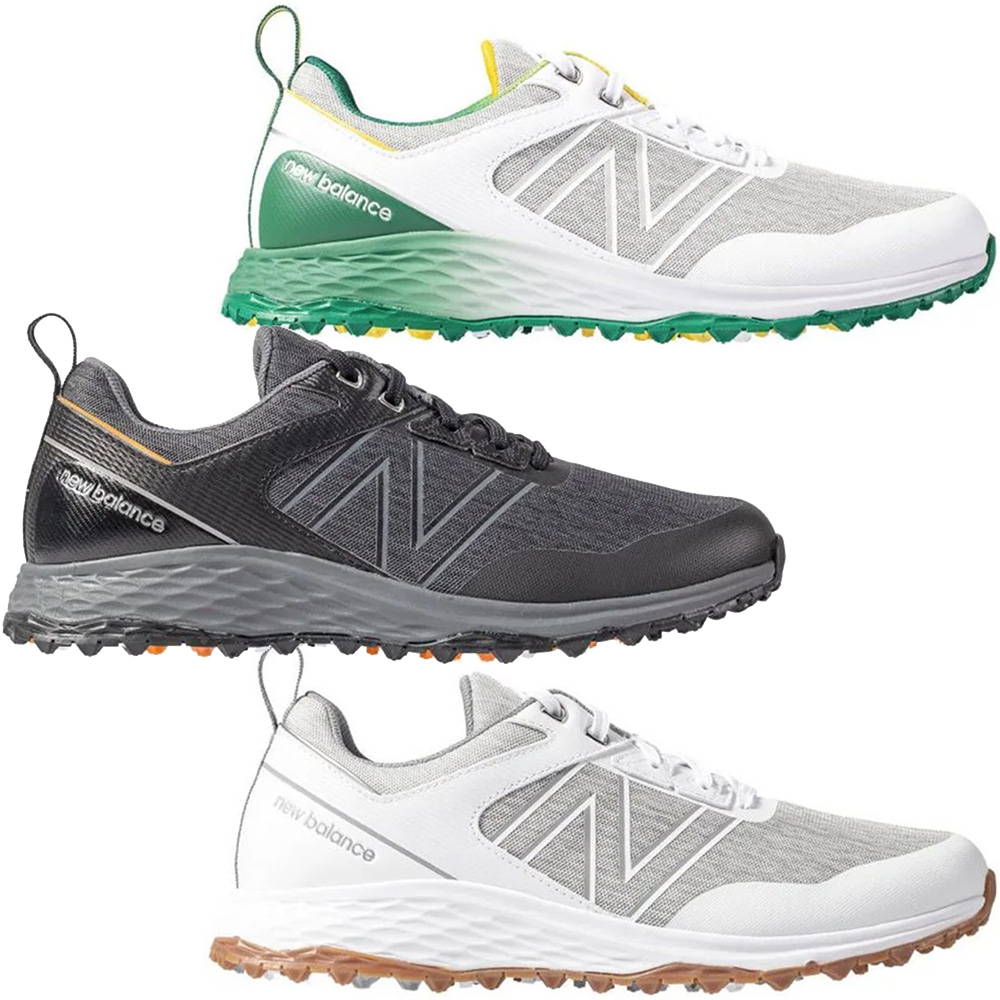 Toe Character, Forefoot, Instep & Heel

You should also look at with of the toe box and heel, some shoes have a wider toe box or heel than others so if you have a wide foot, you'll definitely want something with wider fit. Anything available in a wide or X-wide size will be ideal. FootJoy Traditions tend to have a full rounded toe character, standard fit across forefoot and instep, with a slightly narrow heel so you need to take these things into consideration. The toe character, forefoot, instep, and heel are all things that come into play and if you know your feet well enough based on the previous golf shoes you've worn this will help if buying golf shoes online.
Although most 2022 golf shoes for men or women have very cushioned insoles, some use different technology than others. In the newest 2022 Adidas Tour360 22 Golf Shoes they use a high energy-returning dual-stack Boost material midsole, which is Adidas' latest iteration of underfoot cushioning and lightest compound. The Puma Ignite Articulate Golf Shoes use a revolutionary proprietary IGNITE foam misdole for added comfort and heel support. Skechers uses a patented, podiatrist designed Arch Fit Insole System with responsive ULTRA FLIGHT lightweight cushioning in most of their newest generation of shoes, highly popularized by the 2022 U.S. Open champion, Matt Fitzpatrick.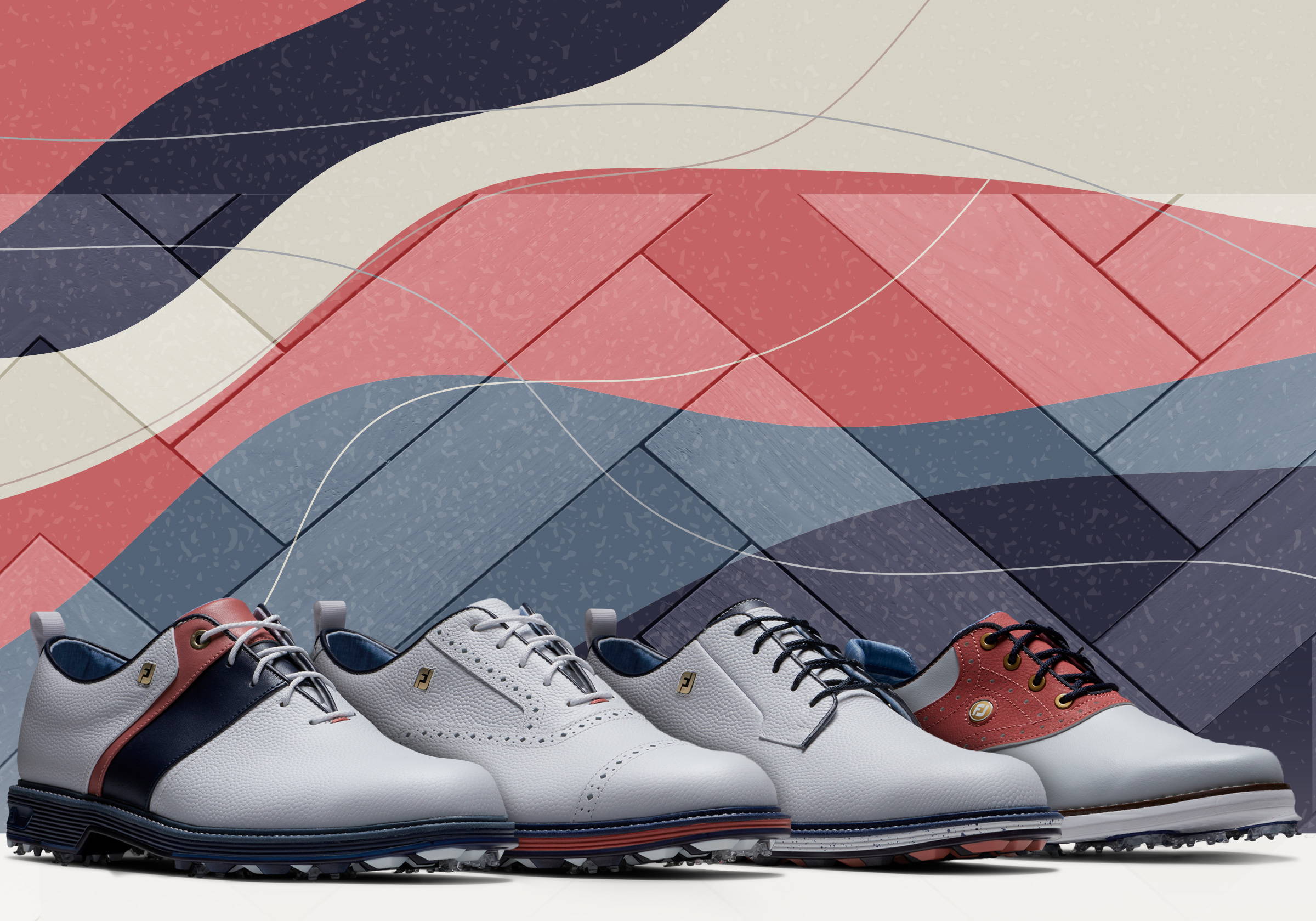 In past years FootJoy BOA Golf Shoes were brought to the market and soon after Adidas, Nike, and Puma also have BOA Golf Shoes for men and women. If you're not familiar with the new BOA Lacing System, it's basically golf shoe without the traditional laces in any shoe. There is a wire that runs through the entire shoe and all you have to do is twist the BOA knob and the wire tightens the lacing system to fit your foot perfectly. Then you just pull the knob out and the lacing system looses so you can take the shoe off. If you've worn any BOA Golf Shoe you'll never wear anything but a golf shoe with BOA technology.
Stability, Flexibility, & Mobile vs Structured

Not only does every golfer have different feet, they also have different swings. Many golfers have an active lower body throughout their swing and therefore, need more stability. Those who prefer to walk on the golf course instead or using a riding cart might also need a more flexible outsole. Next time you're shopping either in-store or online shoes, notice the width of the outsole, the amount of spikes, and how flexible the golf shoe actually is. The FootJoy ProSL and ProSL Sport are good examples of a flexible shoe that is great for walking the course and it keeps your feet low to the ground. According to FootJoy's analysis, by wearing the right footwear you can see an average increase of 3 to 4 mph in swingspeed would could equate to an extra 10 yards off the tee.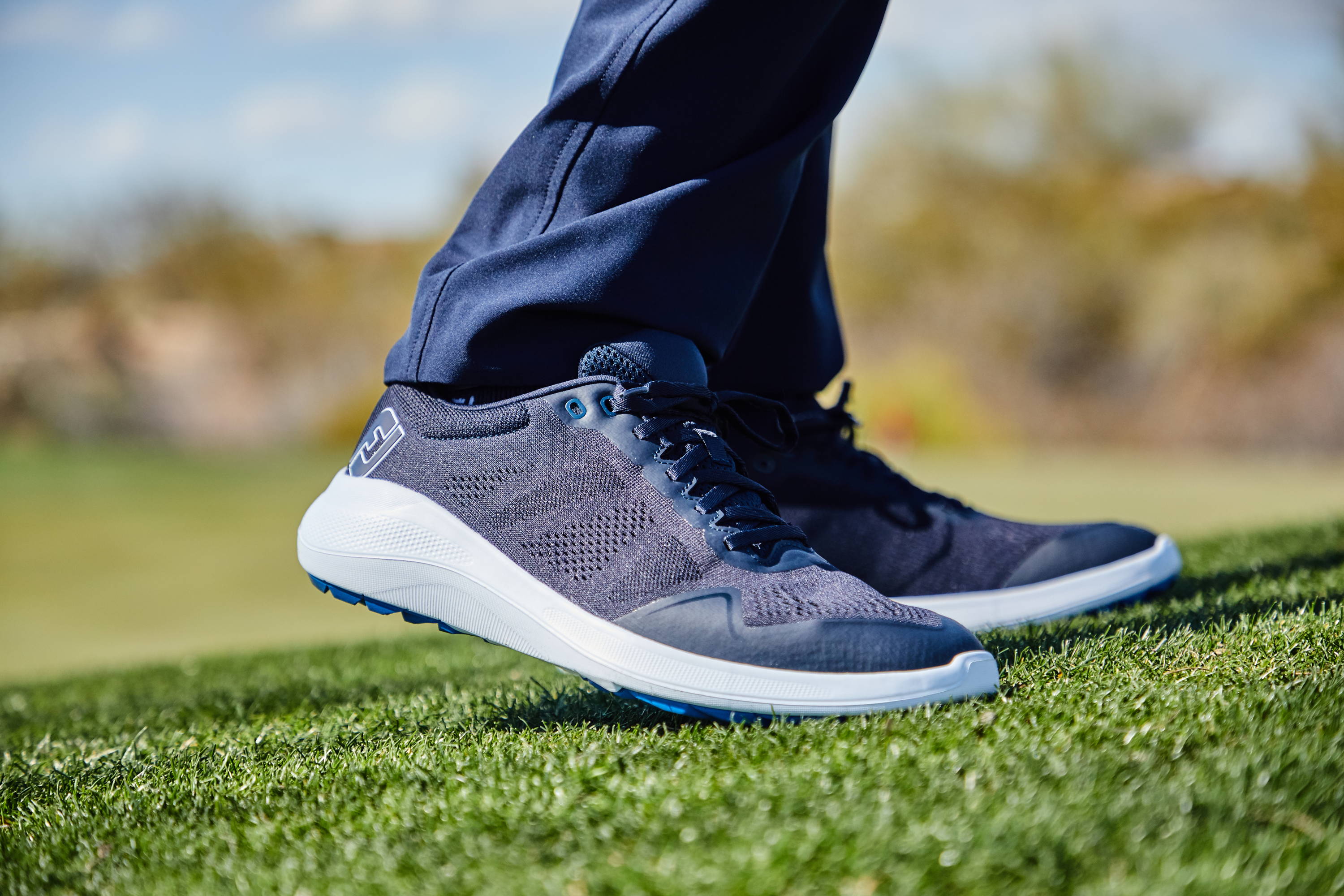 You'll also notice spiked and spikeless golf shoes. We all know spikes or cleated golf shoes give you great traction and once they wear down, they can be replaced. That has both its pros and cons. If you play in rainy weather, the added traction can definitely help, especially on golf courses with a lot of hills where you'll be hitting from all types of lies. However, depending on how much you play, you do have to change the soft spikes (plastic cleats) and that is an added cost. Some retailers also charge you to even change the spikes or you can buy a spike wrench and change them yourself.
On the other hand, spikeless shoes for golf have increased popularity over the past few years. Consumers have also been skeptical and concerned if the traction is as good as regular cleated golf shoes. The feedback on spikeless shoes has been increasingly positive and there are even tour players wearing spikeless golf shoes, such as Jon Rahm sporting his Cuater Moneymaker Spikeless Golf Shoes by Travis Mathew. Some even buy them to wear as street shoes…they're that stylish and comfortable! Think about 2018-'19 PGA Tour rookie of the year, Sung-Jae Im, gathering his first victory on Tour at the 2020 Honda Classic wearing his FootJoy ProSL Carbon Spikeless Golf Shoes, featuring a proprietary carbon fiber outsole insert with an Infinity spikeless outsole. He may not wear them off course but it's absolutely an added benefit to be able to wear them straight from your house to the course, or to the clubhouse for a beverage, or back to your home or office. A couple of perfect examples of these versatile shoes are the True Linkswear True Knit II Golf Shoes that come in a number of colors, or the Adidas Matchcourse Slip-On Golf Shoes. We highly recommend you just try them on! You can't go wrong either way.
For many, price alone might be the single most important factor when shopping for new golf shoes. Every golf shoe manufacturer/brand has a very wide price range in their line-up of golf shoes. Some FJ Closeout Golf Shoes can be found as low as $29.99 to $39.99 and higher-end 2022 shoe models can go up to $299 or more. Either way, there is most likely a shoe you will like in YOUR price range. Some might wonder if you would be getting what you pay for. The answer: Sometimes! We say this because a shoe under $60 would most likely be synthetic leather and NOT have a waterproof warranty. This might be acceptable for someone who plays less than a handful of times a year. The shoes that are $80 or more will typically have a one or two year waterproof warranty, leather upper and better overall construction. These are the shoes that the more avid golfers might go after.
Discount Previous Season Style Golf Shoes

So what if a golfer doesn't play often and/or can't afford it and still wants that better shoe? Those golfers are in luck because there are always closeout deals on golf shoes. Like golf clubs or golf balls, the previous season's model gets discounted and you can always get a great deal. Golf shoes are the same way and if you don't mind wearing last year's model or a discontinued golf shoe you can save a lot of money as most of these golf shoes are heavily discounted. We all want a pair of cheap golf shoes that still provides amazing technology and features and if you shop with us, Golf Headquarters is always searching for great deals and inexpensive golf shoes for you at the lowest prices possible. GolfHQ has a dedicated section of clearance discounted golf shoes for men and women if you're looking for a bang-for-your-buck option! You can normally find a comfortable, stylish, waterproof shoe at 50%-70% off of the original price! We hope this Golf Shoe Buying Guide helps you find your perfect pair of shoes and hopefully your search begins at GolfHQ!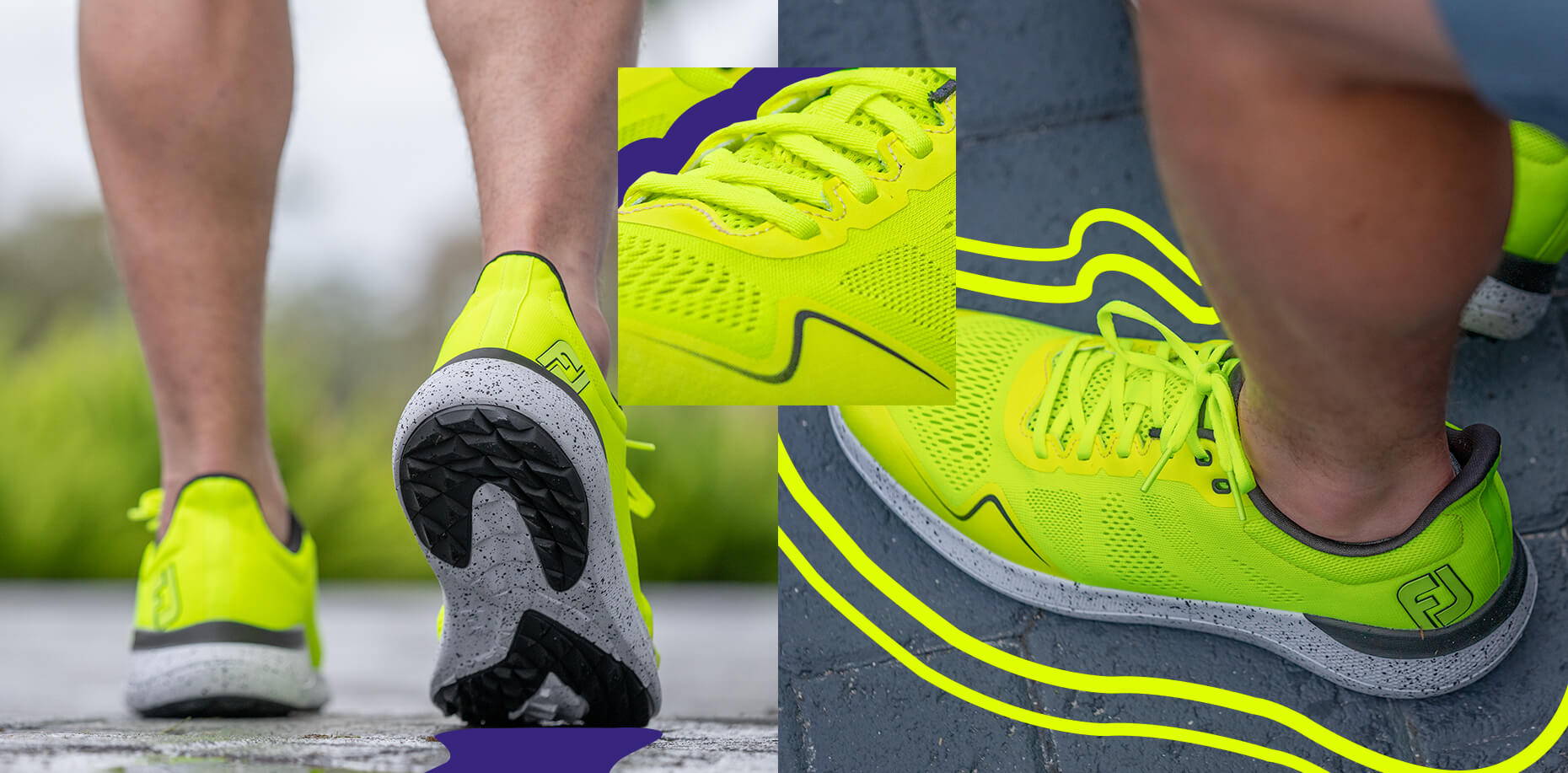 Recent Posts
THE ULTIMATE GUIDE TO WEDGE GRINDS: EXPLAINED …

WHY DO I HIT MY 3-WOOD BETTER THAN MY …