GOLF GLOVES: DO I NEED TO WEAR ONE?
Posted by Seth Zipay, June 6th, 2017
Last Updated: August 8th, 2022
Have you ever wondered if you had to wear a golf glove? The simple answer is you don't have to wear a golf glove, however there are several reasons why you should. The most obvious reason is that the golf glove helps you with tackiness and holding onto the club easier without having to increase your grip pressure. If you watch the PGA & LPGA Tours you'll notice that just about every professional golfer wears a golf glove. There are some rare instances where a professional golfer doesn't, Fred Couples, for example, but most golfers do wear a glove.
Golf gloves are especially helpful on hot summer days when your hands are sweaty as well as when it's raining or wet. Your grip is one of the most important aspects of your swing and keep the correct grip pressure throughout your entire swing is extremely important for a variety of reasons. The material of a golf glove is much tackier than that your hand so it's obvious that there are benefits to wear a golf glove.
Golf Gloves Save Your Hands
If you play a lot of golf and hit a lot of balls on the driving range, a golf glove is even more important to protect your hand(s) from blisters. Some golfers that do not wear a glove but play often typically have calluses built up on their hands so they're unbothered by not wearing a glove. However, it's highly recommended that if you're going on a golf trip in the spring after a long winter of not playing golf, you get yourself a golf glove, otherwise you'll surely have blisters on your hands.
If you're just a typical golfer that only plays once or twice a week, you may always just worn a golf glove because it's what golfers do and it always what you've seen the professionals do on television. However, it wasn't always this way…golf gloves were first invented in the 1890's and for the main reason that the golf grips on older golf clubs, usually leather wraps over a hickory shaft, were very hard on the hands. Golf gloves helped prevent damage to the hands from the roughness of the shaft and grip. It took another 40 years until sometime in the 1930's for tour professionals were seen wearing golf gloves. One of the first high profile players to use a golf glove was Sam Snead. Although at that time not all high profile golfers used a glove. Ben Hogan and Bobby Jones never used a glove, however it's obvious they beat so many golf balls on the range they had plenty of calluses and gloves weren't necessary. In the next three decades golf gloves truly rose to popularity and the large majority of professional golfers wore a glove. Look back at pictures of Jack Nicklaus and he always had a white golf glove on. Now the golf glove is a staple golf accessory for almost every golfer.
Which Hand Do I Wear A Golf Glove On?
Most golfers will only wear a glove on one hand and in rare instances will you see golfers wear a glove on both hands. Some women prefer to wear two gloves to save both hands, but for the most part you'll see guys only wear one Men's Golf Glove. You typically wear your golf glove on your leading hand, so for right-handed golfers, you will wear a left-handed golf glove. Left-handed golfers wear gloves on their right hand. Sometimes this is confusing, just remember that you wear your glove on the opposite hand of your dominant hand. Also to note, some companies like FootJoy sell gloves in 2 packs, such as the men's and women's FootJoy WeatherSof 2 Pack Gloves. So make sure you pay attention to packaging, most of them will be a 2 pack of 2 left-hand gloves the same size just at a better value than buying just 1 glove. However, there are also some companies that offer a right and left-hand glove as a pair in the same package. These are more common among Women's Golf Gloves.
What about fit? It's very important that you get the right fit in your golf glove, otherwise you could be doing more harm than good. If your glove is too loose your hand could be slipping within the glove throughout your swing and completely defeating the purpose. If your glove is too tight it could end up restricting hand and wrist movement throughout the swing which is also not helping matters either. Make sure your glove fits snugly but is flexible enough for you. After you wear it for a few rounds it'll also start to conform to your hand. If you are about to purchase a new brand of golf glove that you've never worn before you should definitely try it on, because even if you buy the same size you've always worn there can be slight differences in size from one glove manufacturer to the next.
What in the world does a cadet golf glove mean? That question comes up a lot so don't feel like you're the only one who isn't sure what a cadet size means. The cadet size means that the palm size is the same but just with shorter fingers. So a large glove fits a large palm size and a cadet large fits the same palm size but just with shorter fingers. Long story short, getting the right fit for a golf glove is very important. If it doesn't fit correctly or is uncomfortable your doing yourself more harm than good.
Does material matter when deciding on which golf glove to buy? It does, but for most it's just personal preference. Some lower handicap golfers only wear all cabretta leather gloves, such as the FootJoy StaSof. The advantages tend to be a thinner material and feel so it feels more natural almost like they're not wearing a glove at all but still getting all the benefits from a glove. Typically these gloves are less durable and wear out faster. There are also synthetic leather gloves as well as a combination of cabretta leather and synthetic leather gloves. These tend to be less expensive and can last longer. There are also glove that have lycra or flexible stretching material to add to the comfort of the fit around the joints of the knuckles. For the most part, the type of material depends on personal preference, how often you play, and your best bet is just to try a few on and see which type you like the best. You can often find amazing value in synthetic/cabretta combination or all synthetic golf gloves, such as the Mizuno Comp Golf Glove or men's and women's Wilson Grip Soft Glove.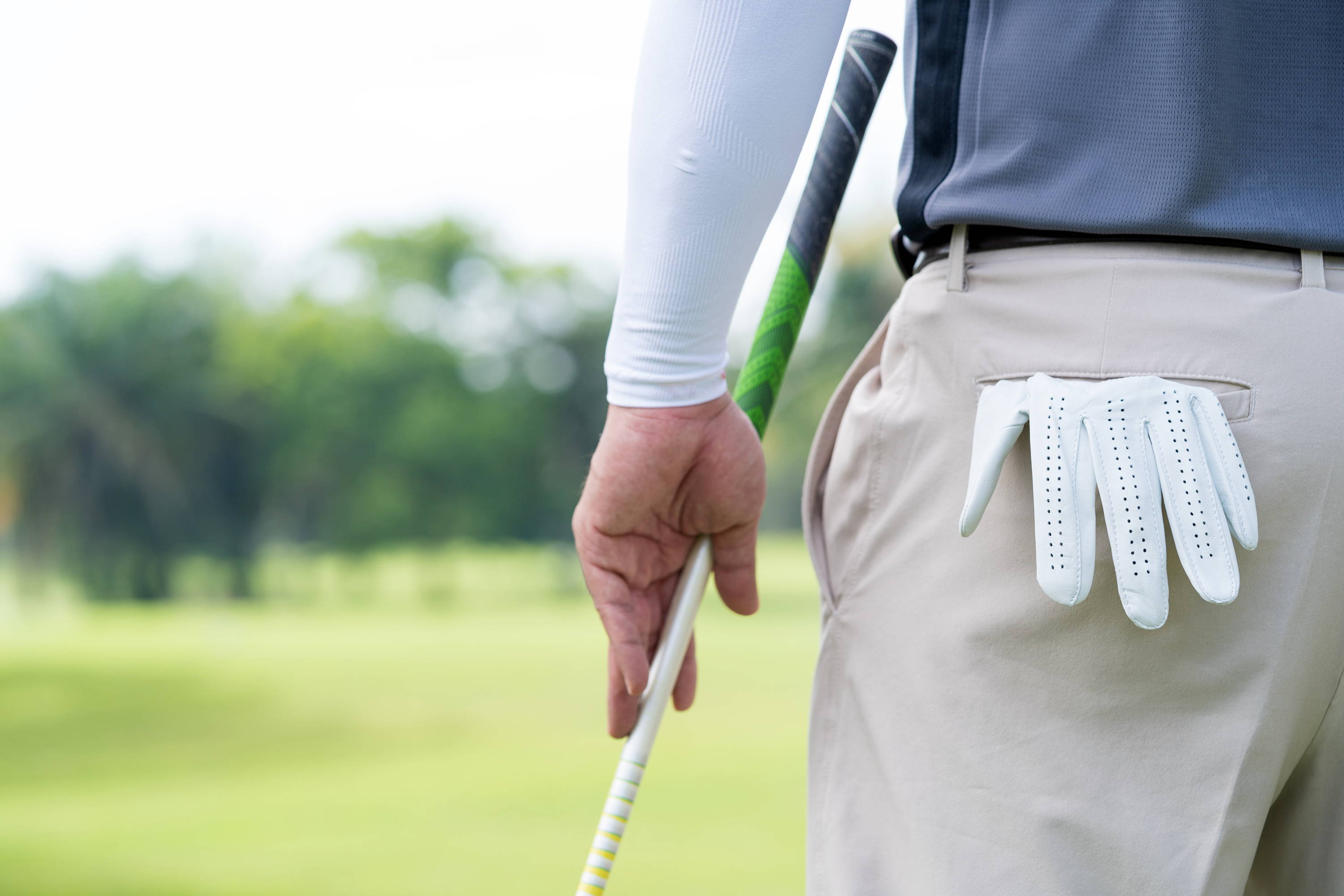 How To Choose The Right Golf Glove For You
Almost every major golf equipment manufacturer has a golf glove these days so your best bet is to choose the glove that fits and looks the best. You can even find gloves in just about any color imaginable such as the G/FORE Men's Collection line of golf gloves or Zero Friction's entire offering. Some are even using gloves as part of their fashion statement now and brands like G/FORE and Cuater offer uniquely styled custom looking golf gloves. There are also specific golf gloves for rain, where you get a pair for the right and left hand. These rain gloves also work best when completely wet and actually make a world of difference if you get stuck in the rain. Rain gloves can save your round so don't forget your FootJoy RainGrip Gloves.
There are also gloves designed for playing in cold weather, for example FootJoy WinterSof gloves. They provide just enough thickness for you to keep your hands warm enough to play more comfortable when its 40 or below. So yes, as you can see there are a number of reasons to wear a golf glove so take everything in this guide into consideration when deciding whether or not to wear a golf glove at all and if you do hopefully this will help you decide on what type of glove to wear.
Recent Posts
THE ULTIMATE GUIDE TO WEDGE GRINDS: EXPLAINED …

WHY DO I HIT MY 3-WOOD BETTER THAN MY …